As spring begins, pollen season in South Carolina and the Upstate is roaring into gear. Thin layers of yellow dust are starting to cover cars and patio furniture, and leaving most of us with itchy eyes, sneezing fits, and nasal congestion. 
Pine and Cedar trees are responsible for the yellow pollen swirling around, however, there are 18 major tree pollens in the Upstate SC area that emit sneeze-worthy pollen from February to May every year.
Pollen is highest during the early morning and late afternoon but often causes us problems throughout the day. The only way to completely avoid allergy symptoms is to avoid going outside at all – which is not a realistic treatment plan. 
Luckily, there are several natural and holistic options to help ease your sinus problems and help you get through this allergy season.
4 All Natural & Holistic Allergy Remedies 
Living a holistic lifestyle can get complicated when allergy season hits – but here are four proven options to help you relieve your allergy symptoms.
1. Allergy Rescue from DesBio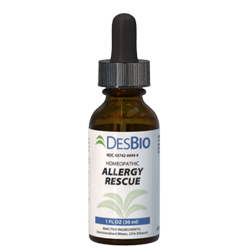 Allergy Rescue is for the temporary relief of symptoms including runny/stuffy nose, sneezing, and red, itchy, watery eyes.
Why this works: The body produces three natural compounds to fight allergies: acetylcholine chloride, histaminum hydrochloricum, and serotonin. When allergens enter the body, the mucous membrane becomes irritated and attempts to expel irritating allergens. Allergens also contain mast and basophil cells that release chemicals that trigger the body's allergic response and irritation.

Using Allergy Rescue allows you to rely on the basic foundation of homeopathy and instead of blocking the body's natural response, it gives it a boost by providing small amounts of these irritants to trigger the body's natural fighting response to help reinstate balance.

2. Histamine from DesBio
Histamine is used for the temporary relief of hay fever, congestion and stomach discomfort.
Why this works: Histamine is a neurotransmitter that has a large influence over our brain and autonomic nervous system and fighting allergies. When you are having an allergic reaction, your body automatically releases histamine. Once released into your bloodstream, blood vessels swell, which allows white blood cells to find and attach foreign pathogens (like allergies). Those with higher levels of histamine are shown to have fewer pollen allergies.
3. Mucinease from DesBio

Mucinease supports sinus comfort by promoting normal mucous viscosity and balanced inflammatory responses. 

Why it works: It helps support the immune system and aids in the breakdown of mucous in the upper respiratory tract.
4. Breathe from DesBio
Breathe is for the temporary relief of symptoms related to the respiratory system.

Why it works: Breathe is a homeopathic product designed to support the temporary relief of symptoms related to the respiratory system.Homeopathy relies on two major principles: Like treats like and Less is more.

Homeopathy uses highly diluted natural plant, animal and mineral ingredients to stimulate the body's response to illness or imbalance. Instead of disrupting the body's natural systems, minute amounts of reaction-inducing substances in Breathe help trigger the body's natural responses, allowing the body to receive the gentle signals it needs to rebalance itself – helping you get the air you need.
Holistic Allergy Guidance
When you're in the clutches of allergy season, you'll look for any relief you can find. But speaking to a certified holistic health practitioner is the best place to start. 
Working with an expert, you'll get a health plan guided by your body, which it responds well to and they will consider your current health conditions when suggesting supplements and remedies. 
If you are looking for allergy relief, schedule a free 15 FREE minute consultation with Authentic Health now and be on your way to a sneeze-free spring.
Join the Authentic Health Community
Sign up to receive health news, wellness tips, product sales, and service specials.