A Natural Solution for Your Good Health
True wellness shouldn't be chemically manufactured in a lab.
I've always found it a little funny that my approach to wellness is considered alternative and pharmaceutical drugs are standard—when for centuries we relied on nature to correct our ailments and keep us on a path to good health.
So often what ails us stems from the food we eat. Science continues to show the connection between our guts and our brains.
Diet and lifestyle changes can have a significant positive impact on many conditions such as chronic pain, migraines, auto-immune diseases, digestive disorders, depression, anxiety, and so many more.
Focusing on living life naturally helps you learn to listen to your body, understand what it's telling you, and make the right choices to get your feeling better.
Ready to get back to feeling like you? Schedule an appointment today.
Smart Silver: Advanced Immune Support for the Entire Family
Not to be confused with Colloidal Silver, Smart Silver gives your immune system the extra support it needs to fight harmful pathogens every day.
Smart Silver is a versatile supplement that can help with a wide variety of ailments like, aches, pains, congestion, cough, gastrointestinal distress, immune dysfunction, infections, kidney and liver dysfunctions, and a lot more.
Unlike Colloidal Silver, Smart Silver won't give you the "blue man" syndrome because it's many times smaller than the silver particles in a colloid.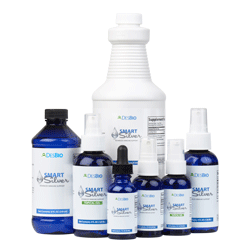 Call Today to learn more about what Smart Silver can do for you (864) 303-0392.